Mission
Ashland DEVO inspires wellness in our youth by building grit, resiliency and camaraderie through mountain biking.
Philosophy
To Our Community:
The idea for Ashland DEVO was born in 2017, rising from the clear need for more local youth-oriented opportunities in mountain biking. It's no secret that today's generation of children are facing serious threats to their health and well-being due to a myriad of factors. Access to unhealthy food, excess screen time, and living in a world of instant gratification has created a culture that significantly impedes the development of problem solving skills and resiliency needed to overcome real challenges in life. Good things come from hard work, and never has this been more important than in the present.
How can our children thrive in such crisis? How can we plant the seeds of responsibility, honest effort, achievement, and humility in a culture that largely fails to recognize any of it? Ashland DEVO has the prescription: Go outside. In Southern Oregon, we are blessed with beautiful public lands that are accessible and available to all. Nature therapy is real, and it's here. Studies have begun to take a serious look at the role of outdoor activity in promoting higher levels of happiness, fitness, and overall well-being. This shouldn't come as much of a surprise. Who doesn't feel better hiking, running, swimming, or biking outdoors rather than being inside? Now science is backing this up.
We believe that children can become more self-confident, resilient, and strong by learning tools to help them flourish in new and challenging environments. With the skills developed in Ashland DEVO, our kids will be more willing to overcome obstacles and fears. Why mountain biking? Riding bikes in the mountains is challenging, takes effort, and requires determination to face obstacles – it's not always easy. Pedaling hard and finally completing the hill that you've walked time and time again builds a feeling of self worth. Clearing an obstacle that requires skill and focus forges mental toughness that can be used in many other facets of life. To sum it up, mountain biking builds resilience and grit in ways that are hard to achieve in other activities.
These are the keys to creating confident and self-assured children. Children who are uniquely body-aware and know their strengths and weaknesses. Children who can rely on themselves in trying times through mindfulness and mental fortitude. Children who understand the meaning of hard work and who can shred harder than their parents! If you add the dynamics of teamwork, peer support, and growing together through challenges, what do you get? A tribe of riders built on common goals: Having fun, riding safe, respecting our environment, and progressing bike skills. This is our community, our goal, and our vision. This is Ashland DEVO. Come join us!
Sincerely,
Casey, Mike and Steven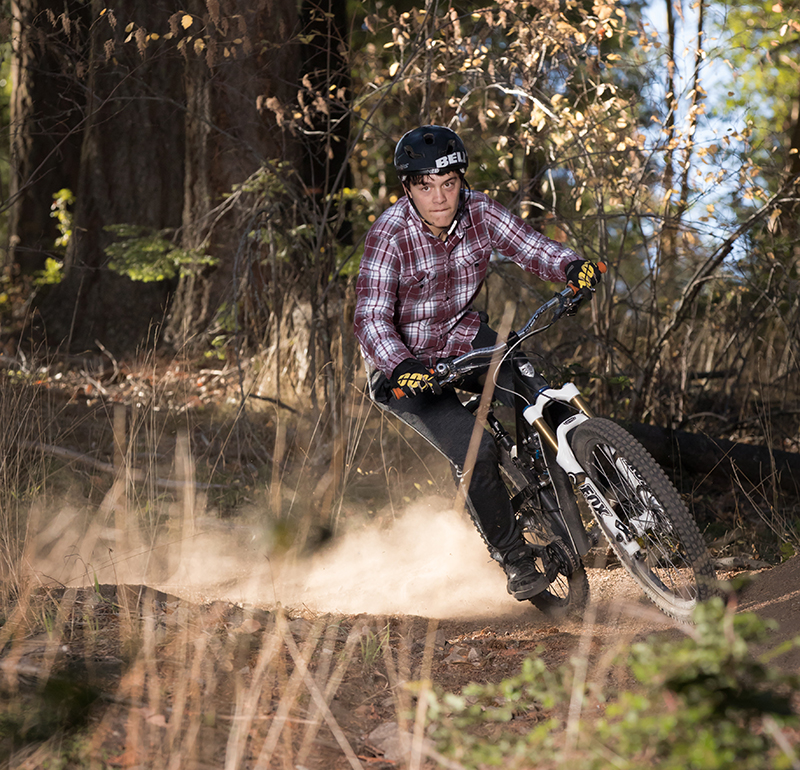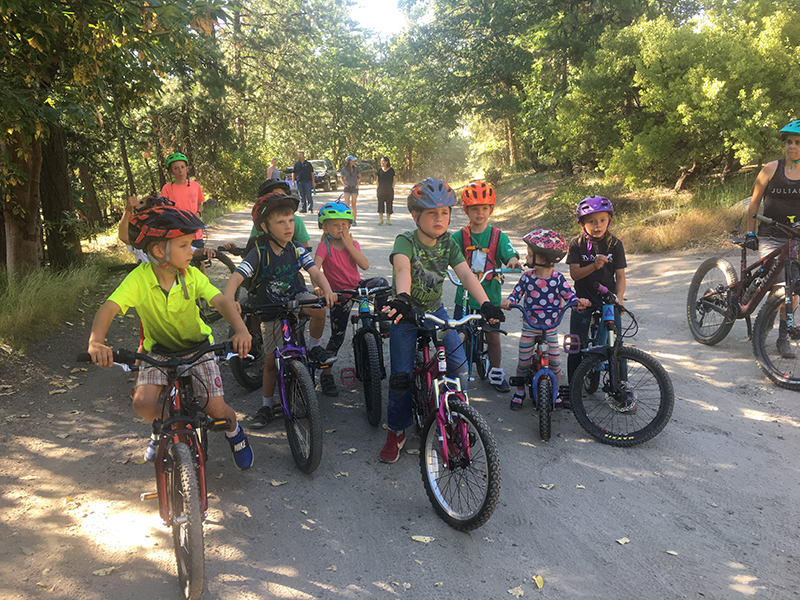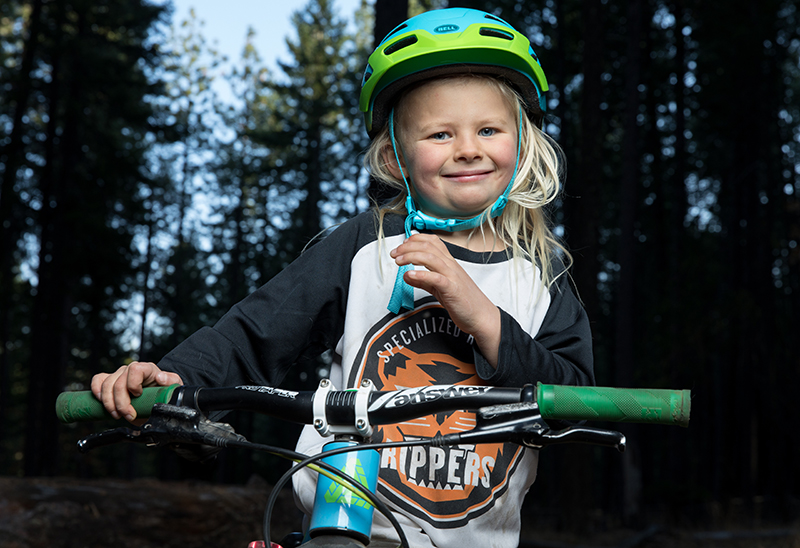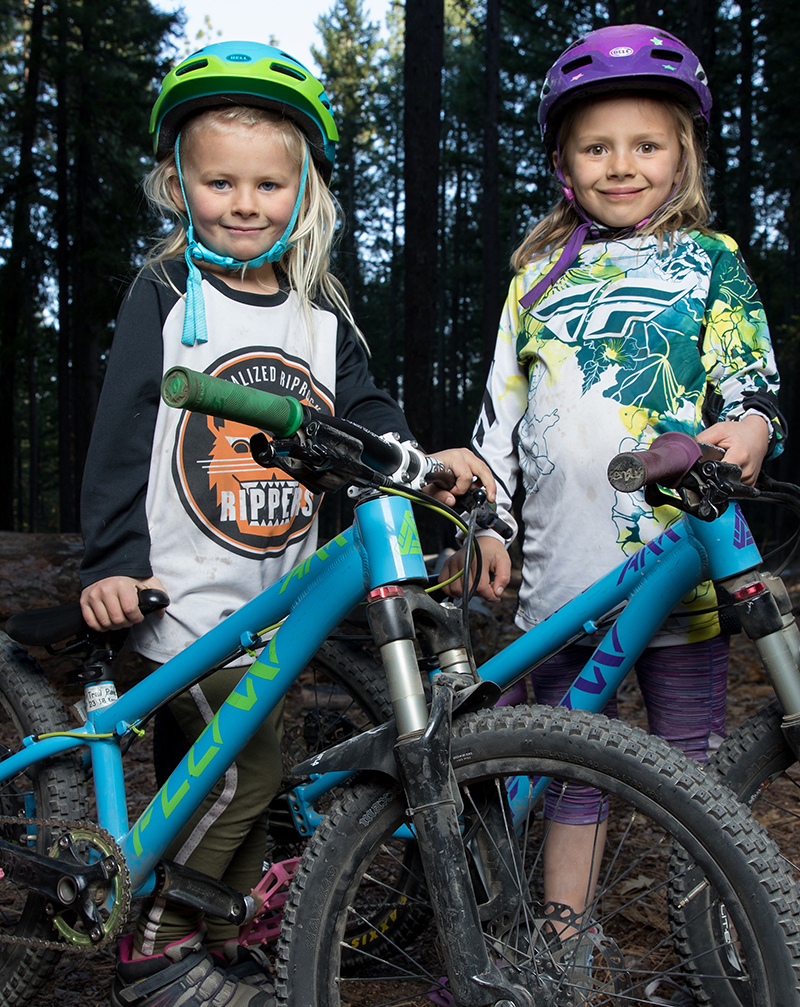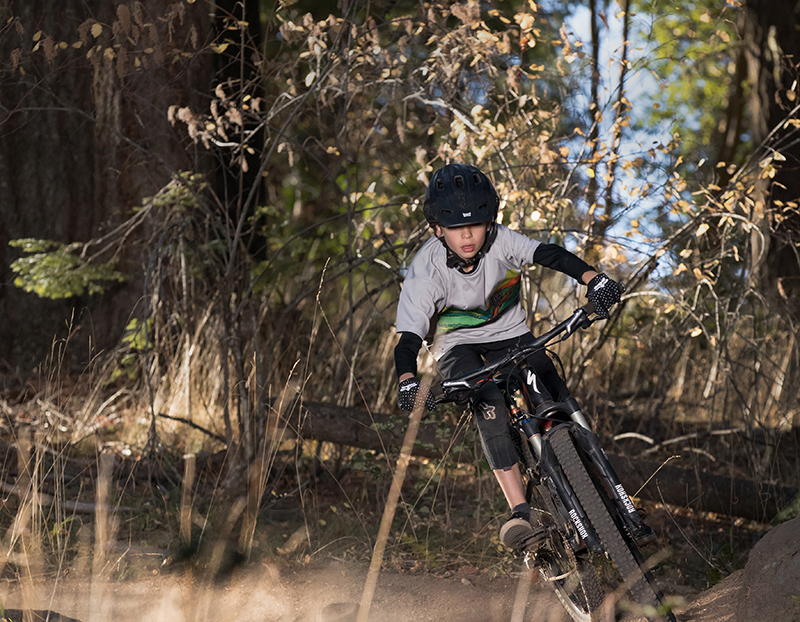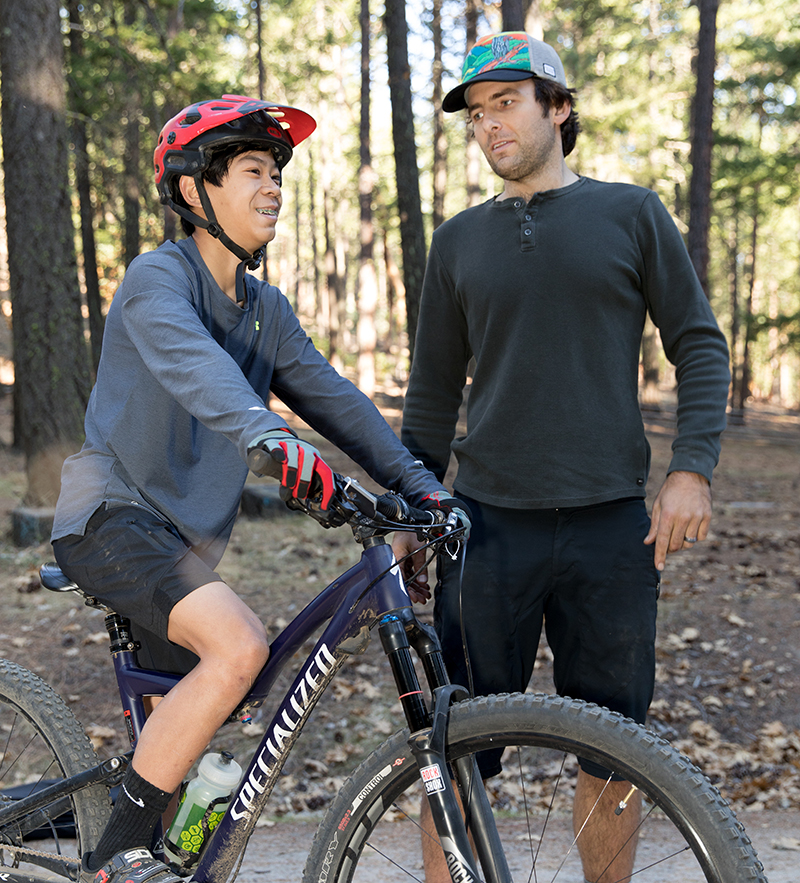 Process
Ashland DEVO aspires to reach our mission by offering a series of age and skill based courses in a weekly format. Sessions will be held Spring and Fall, with 6 week modules offered for 2020. Classes will range 1-2 hours based on age and group ability, and will maintain a minimum coach ratio of 1:5 for trail riding and 1:7 for non-trail venues. DEVO is short for development. Developing traits mentioned in our Philosophy section starts with solid fundamentals and skills. Our unique program curriculum is based on a combination of diverse bike experience, BICP instructor program, NICA on-the-bike skills 101, and USAC training fundamentals. Our Head Coaches will have completed our DEVO coach clinic, a background check, NICA Level 1 certification, and first aid/CPR as a minimum before leading groups. Our volunteers and mentors will be made up of older riders looking for school or team service hours, and parents who believe in our program.
Once riders have the dexterity and aptitude required to learn our next skills, we will implement other locations besides parks and teach skills such as standing while riding, cornering, and bike body separation. These skills are critical for trail riding, and those showing mastery may get the opportunity for an introduction to trail riding on our easiest watershed trails. This group will be called the Bear Cubs, and will be 5-7, and in Kindergarten.
Riders in our Coyote group will begin by honing skills and begin moving to our watershed trails.  As motor skills increase, so do riding skills. Skills such as standing while riding down hill, bike body separation, and intro to cornering will give these riders a great foundational skillset. This group is also ready to start learning the basics of pre-ride bike checks and how to work as a team on the bike. This group is for 1st graders.
Our Cougars group will be a mix of 2nd/3rd graders. At this age, we will begin to teach some self-resiliency skills such as conducting their own bike checks, learning some very basic repairs, and what to do in an emergency. Skills development continues with learning how to shift, basic wheel lifts, and different braking techniques. By the end of the sessions we plan on having these riders pedal and complete trails such as Rabbit Hole and Lizard.
Jr. Vultures are our 4th/5th grade group, and will be on the precipice of middle school. The 5th graders in this group have the option to move onto the Rogue Composite Vultures Mt. Bike Team the following year. This group will continue building skills and setting goals for themselves to complete certain trails, both uphill and down. Climbing will be paramount for this group, and learning some tricks and tips to make this easier will be important. Jr. Vultures will have the opportunity to come spectate a NICA race and be involved with the team in some capacity if they wish.
Ospreys will be composed of our middle school group. For 2020, this group will be focused on skills development and novice to intermediate riding skills. Along with skill development, riders will learn self sufficiency, how to plan for longer rides, proper nutrition/hydration, and basic trailside repairs. Ospreys will also have the opportunity to be a part of our local NICA team, Rogue Composite, in the fall season.
As our program grows, so will the need to offer more niche programs for those riders wishing to take their skills to the next level. Our Rattlesnake program will be made up of advanced riding 3rd-5th graders who eat, sleep, and live mountain biking. Do you spend summers riding at bike camps and bike destinations around the west coast? Do you ride and know the watershed trails like the back of your hand? Do you try to fix your bike before taking it to a shop because you just want to learn how? This program is for you! Advanced skills development for the Rattlesnakes will include beginning jumping, drops, advanced cornering technique, reading and choosing lines, and race prep. Rattlesnakes will earn their turns. Climbing technique and longer distance climbs will also be incorporated, as will positive mindsets for challenging physical activity. Rattlesnakes will be encouraged to try a race, in any discipline of biking. This program will adapt and adjust to the group needs as we progress together. This group is tentatively scheduled as an invite only group in 2020, and in future sessions will require previous DEVO experience, coach recommendation, short rider essay, and parent request.
Vision
Where do we see Ashland DEVO in the coming years? In the short term, we envision a collective community embracement of mountain biking in Ashland! This would reveal itself in several new infrastructure projects in Ashland to cater to a broad spectrum of community members:
A new pump track and bike skills park in town would create additional learning opportunities and an easy way to build skills without driving to the trails.
True beginner trails linking the bottom of the watershed with downtown would remove bikes from dangerous roadways and give our newest riders an easy way to gain trail experience in the safest manner possible.
Cross Country riders would rejoice at a 17 mile loop trail around Emigrant Lake, paving the way for a yearly NICA youth race.
City officials would recognize the economic contribution mountain biking brings to Ashland and adjust priorities in a way that better represents both these monetary values as well as public demand.
Rogue Composite (our local NICA team) would see a large influx of riders and coaches coming from Ashland DEVO. Creating a pipeline of DEVO riders coming into NICA presents our younger kids with an attainable long term goal, and gives them older peers to look up to. It presents our older kids with mentorship opportunities and positions of responsibility.
These goals are all attainable, and closer than you may imagine, and are all tangible, real things we predict will come to fruition. But the most exciting goals we anticipate are not things easily seen. They aren't measurable by any metric other than that feeling you get when you're a part of something bigger than yourself. They are the things that weave themselves into the fabric of our communities. Good values. Strong connections. Strength in numbers. Creating a culture where a kid having a tough day at school can see her DEVO friends and instantly be welcome. A culture where someone new to school would be welcomed with open arms, because that's the right thing to do. A culture where we equip our kids not only with these skills, but with the ability to TEACH our younger kids through leadership roles and added responsibility.
Our vision includes all of this and more. It's grand, ambitious, and will take hard work and perseverance to see through. But then again, all things worth fighting for usually do.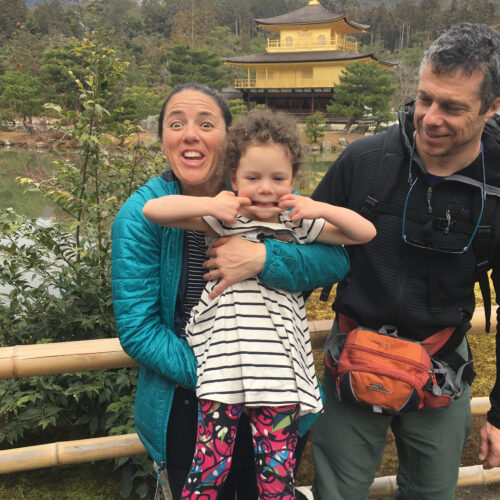 Steven has been a professional outdoor enthusiast since he moved to Colorado as a teenager. Spending 22 years in and around Colorado cycling, rock climbing and skiing taught Steven that the good things in life come from hard work, resiliency and team work. As a professional mountain guide in Durango, Colorado Steven found the value of a good education. Steven received his Bachelors in Cellular and Molecular biology and Chemistry to help him achieve his advanced graduate degree as a Nurse Anesthetist from Cal State Fullerton. His enthusiasm for education translates well into his desire to teach, through cycling Steven is excited to teach life's finer lessons. Good things in life come from hard work!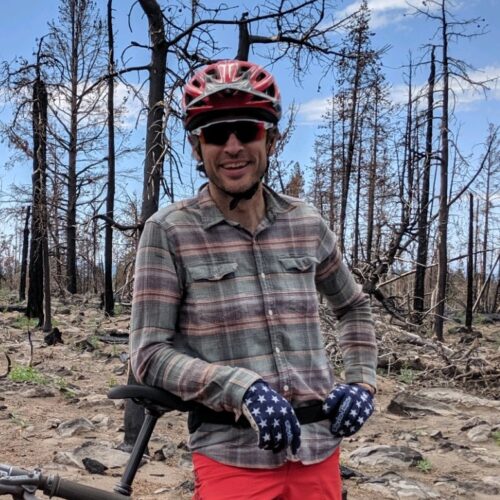 Mike has spent much of his life studying forests and recreating on their awe-inspiring networks of trails. A native of Pennsylvania, he grew up riding BMX and digging dirt jumps before transitioning to racing mountain bikes at age 14, as a member of the National Off Road Bicycle Association. Bikes have been a constant in Mike's life, and he is happiest spending time with others riding and exploring the trails and roads that crisscross our amazing forests. He is excited to be part of the Ashland DEVO organization and to continue assisting in the development of both aspiring and life-long cyclists.
Mike has a passion for teaching and learning, and has been both a faculty and adjunct professor in environmental science and engineering for over a decade - most recently at Northern Arizona University in Flagstaff. He coaches several endurance athletes and has led MTB and cyclocross skills clinics since 2009. He has also spent many years as a bicycle mechanic, and enjoys sharing his intimate knowledge of one of the world's most efficient machines. Mike convinced his wife, Maggie, to interview at Southern Oregon University in 2017 - knowing full well that she would fall in love with the Rogue Valley during her visit. They have enjoyed living here ever since.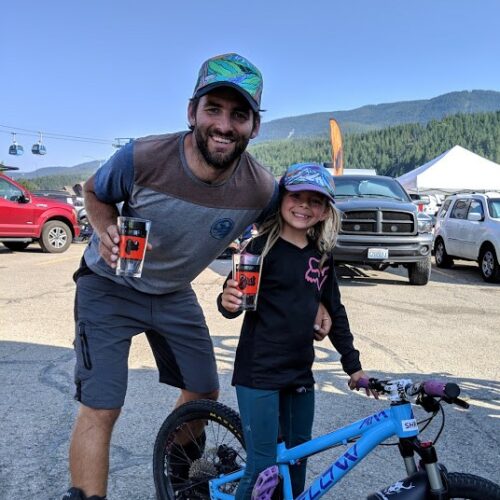 Casey Botts grew up and learned to mountain bike in Marin County, CA. Riding in the birthplace of mountain biking and learning from his dad, Casey developed a love for both bikes and the outdoors. This early passion led Casey to look for a career in which he would spend time outdoors and in nature. After high school he took a job in wildland firefighting, which led to a 14 year career in both rural and urban fire departments. Three of these years were on an elite helicopter crew where resiliency, teamwork, and endurance were put to the test on a daily basis. Casey also holds an Associate's degree in Fire Technology, is an Emergency Medical Technician, and CPR certified.
In 2016 Casey and his family relocated to Ashland, in part due to the amazing trail network and mountain bike opportunities right from town. Identifying a need for more community and mountain bike cohesion, as well as a lack of youth riding opportunities, Casey founded the Rogue Composite Mountain Bike team, which competes in the Oregon Interscholastic Cycling League. He also serves as Treasurer of the Rogue Valley Mt. Bike Association. Casey left the fire service in 2018 to become a stay at home dad to his 7 and 6 year old daughters. His wife Alison is a labor and delivery nurse at Ashland Community Hospital.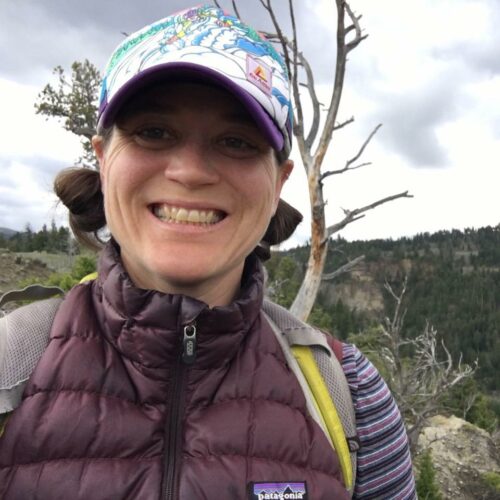 Leslie Eldridge has been teaching kids and adults in the outdoors for most of her adult life. She is currently a Professor of Environmental Science and Policy at Southern Oregon University. Her favorite courses at the university blend academic learning with real-life applications and experiences. She believes the world is the best classroom and experience the best textbook.
Before coming to Ashland, Leslie worked to protect sensitive marine ecosystems in the Gulf of the Farallones National Marine Sanctuary off the coast of San Francisco. She is an avid SCUBA diver and PADI Instructor, as well as being trained as a Wilderness First Responder and Medical Person-In-Charge.
She has also worked as an Outward Bound Wilderness Instructor and Sailing Captain in Maine; a Mariner, Working Diver and Rescue Swimmer for the National Oceanic Atmospheric Administration in Alaska on the NOAA Ship Rainier; a Mate and Educator on traditional tallships for semesters at sea and a staffer in the Senate Commerce Committee in Washington DC. She only had to wear a suit for ONE of the above-listed jobs...
In her spare time she likes to run and ride, ride, ride with her two boys and husband. Watching the freedom and joy her sons get from their bikes is one the greatest feelings a parent can know. She is thrilled to be working with Devo to bring this joy and community to Ashland!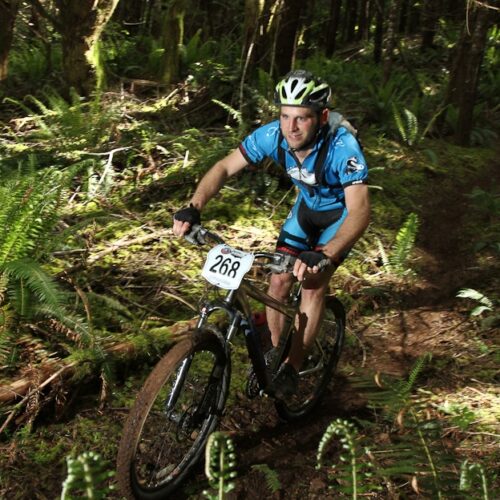 Jack Olsen grew up in Madison, WI where he spent much of his childhood wandering around town on his BMX. After earning a degree in computer science from the University of Wisconsin-La Crosse, he packed up and headed West, eventually landing in Portland, OR where he settled into a career as a software developer, got married and started a family. In 2018, they all moved to the valley in search of many things, including more opportunities to ride trails. In his short time here he's spent more time on his mountain bike than in all his past years combined, and is enjoying the steady increase in skill that comes with all of that practice.
When he's not on the trails Jack spends quite a bit of time working, which is okay because he really enjoys his job. But in his free time he'll often be found in front of his home playing with his young kids, cautiously encouraging them to try new things and push the limits of their abilities.